Welcome to Honor Carpet Cleaning, your reliable source for professional Upholstery Cleaning services in Jacksonville, Florida! We understand that your upholstered furniture is crucial in providing comfort and aesthetics to your home.
Over time, upholstery can accumulate dust, stains, and allergens, affecting both its appearance and indoor air quality.
Our expert upholstery cleaning services are designed to rejuvenate your furniture, leaving it fresh and as good as new.
We Are Ready To Clean Your Upholstery
Our Upholstery Cleaning Process:
At Honor Carpet Cleaning, we employ a thorough and gentle upholstery cleaning process to ensure the best results for your furniture:
Pre-Inspection: Our trained technicians will inspect your upholstery to identify any specific issues, stains, or delicate areas that require special attention.
Fabric Testing: We perform thorough fabric testing to identify the optimal cleaning approach tailored to the unique characteristics of your upholstery material.
Pre-Treatment: We apply a gentle yet effective pre-treatment to loosen dirt, stains, and oils, preparing the upholstery for deep cleaning.
Hot Water Extraction: Our state-of-the-art hot water extraction method eliminates dirt, dust, allergens, and stubborn stains deeply embedded in your upholstery, resulting in a revitalized and hygienic appearance.
Stain Removal: We focus on challenging stains using specially formulated cleaning agents to achieve optimal outcomes.
Deodorization: Our process eliminates unwanted odors, making your furniture smell pleasant.
Gentle Drying: We use specialized techniques to ensure your upholstery dries quickly without causing any damage.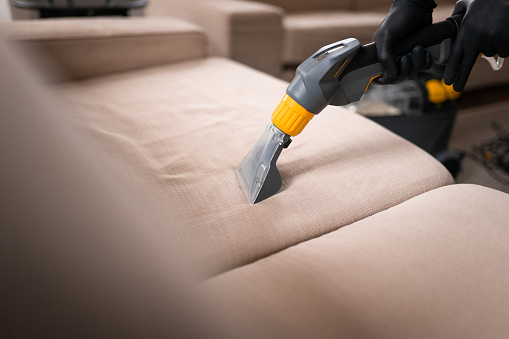 For Our Best Quality You Have Chosen Us
Your furniture is likely to be one of the most substantial investments that you'll make and it makes sense, therefore, to invest in the same type of professional care that you rely on to keep your car running and your house in good condition.
Our Tile Cleaning Expertes
Our Upholstery Cleaning Services Include:
Upholstery Inspection: Our experienced team inspects your upholstery to identify specific spots, stains, or delicate areas requiring special attention.
Upholstery Cleaning: Whether you have fabric sofas, leather furniture, or other upholstered pieces, we use suitable cleaning techniques to remove stains, dirt, and odors, breathing new life into your upholstery.
Stain Removal: Stubborn stains on tiles and upholstery differ from our targeted stain removal treatments.
Deodorization (Optional): We offer optional deodorization services to leave your home smelling fresh and clean.
Types of Upholstery We Clean:
At Honor Carpet Cleaning, we have experience cleaning a wide range of upholstery materials, including but not limited to:
Fabric Sofas and Couches
Leather Furniture
Dining Room Chairs
Recliners and Armchairs
Love Seats and Sectionals
Ottoman and Stools
Why Choose Honor Carpet Cleaning for Upholstery Cleaning?
Expert Technicians: Our skilled technicians are well-trained and experienced in handling various upholstery fabrics.
Specialized Cleaning Techniques: We use industry-leading cleaning methods tailored to the specific needs of your upholstery.
Safe Cleaning Solutions: We use eco-friendly cleaning products that are safe for your family, pets, and the environment.
Revitalized Furniture: Our upholstery cleaning services bring new life to your furniture, extending its lifespan and enhancing its appearance.
Customer Satisfaction: Your satisfaction is our priority. We are dedicated to delivering exceptional service and exceeding your expectations.
Contact Us or Book an Appointment:
Give your upholstery the care it deserves with Honor Carpet Cleaning's professional upholstery cleaning services in Jacksonville, Florida.
Contact us today at 904-484-6394 to schedule an appointment or request a free quote.
Trust Honor Carpet Cleaning to restore the beauty and freshness of your upholstered furniture!