Welcome to Honor Carpet Cleaning, your go-to provider for professional Grout Cleaning services in Jacksonville, Florida. Grout, the material that fills the gaps between tiles, is prone to accumulating dirt, stains, and grime over time, affecting the overall appearance of your tiles.
Our specialized grout cleaning services are designed to restore your grout's cleanliness and original color, leaving your tiles fresh and revitalized.
We Are Ready To Clean Your Grout
Our Grout Cleaning Process:
At Honor Carpet Cleaning, we employ a meticulous grout cleaning process to ensure exceptional results:
Pre-Inspection: Our skilled technicians will carefully inspect your grout to identify areas that require special attention and assess the overall condition of your tiles.
Pre-Treatment: We apply a specially formulated pre-treatment to loosen dirt, stains, and oils embedded in the grout.
Grout Cleaning: Using advanced equipment and powerful cleaning agents, we clean the grout lines, removing dirt, grime, and stubborn stains.
Stain and Spot Treatment: We use targeted cleaning agents to achieve the best possible results for tough stains and spots requiring extra attention.
Grout Sealing (Optional): Upon request, we offer grout sealing services to protect your grout from future stains and make it easier to clean and maintain.
Final Inspection: Before considering the job complete, we conduct a thorough inspection to ensure the grout lines are clean and restored to their original condition.
For Our Best Quality You Have Chosen Us
It's recommended to have your tile and grout cleaned at least once a year. If you have kids or pets who get your tile dirty quicker, twice a year might be better for your family. Regular cleanings will keep your tile clean, healthy, and in good condition.
Our Tile Cleaning Expertes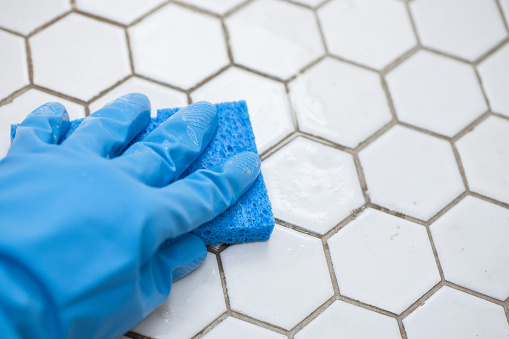 Our Grout Cleaning Services Include:
Tile and Grout Deep Cleaning: We specialize in deep cleaning tiles and grout, removing built-up dirt, stains, and grime that regular cleaning methods can't eliminate. Our advanced cleaning processes ensure that your tiled surfaces regain their original luster, making your space look fresh and revitalized.

Stain Removal: Stubborn grout stains can be a real eyesore. Our experts are adept at tackling even the most challenging stains, whether from coffee spills, grease, or mold. We use specialized products and techniques to lift stains safely without causing damage to your tiles.
Grout Sealing: Protect your grout against future stains and moisture by opting for our grout sealing service. Our high-quality sealants create a barrier that prevents dirt, liquids, and contaminants from penetrating the grout, ensuring a longer lifespan for your tiled surfaces.
Color Restoration: Grout can lose its original color over time due to wear and tear. Our color restoration service rejuvenates faded or discolored grout, enhancing the overall appearance of your tiles. You can choose a color that matches or complements your existing tiles, giving your space a refreshed look.
Mold and Mildew Removal: Mold and mildew look unsightly and pose health risks. Our specialized cleaning solutions target and eliminate mold and mildew from your grout, leaving your surfaces clean and hygienic.
Grout Repair and Replacement: Damaged or crumbling grout can lead to structural issues and further deterioration of your tiles. Our skilled technicians can repair or replace damaged grout, ensuring the integrity of your tiled surfaces and preventing potential water damage.
Grout Maintenance Tips: We believe in empowering our clients with the knowledge to maintain their grout and tiles between professional cleanings. Our website features a comprehensive guide on grout maintenance, including cleaning techniques and product recommendations, helping you keep your surfaces looking great for the long haul.
Why Choose Honor Carpet Cleaning for Grout Cleaning?
Specialized Grout Cleaning Techniques: Our experienced team is well-versed in various grout cleaning techniques, ensuring a thorough and effective cleaning process.
Advanced Equipment: We use state-of-the-art cleaning equipment that delivers outstanding results without damaging your tiles or grout.
Eco-Friendly Cleaning Solutions: We prioritize using eco-friendly cleaning products that are safe for your family, pets, and the environment.
Enhanced Tile Appearance: Our grout cleaning services significantly improve the appearance of your tiles, making them look new again.
Customer Satisfaction: Your satisfaction is our ultimate goal. We are dedicated to providing top-quality service and exceeding your expectations.
Call Us or Book an Appointment:
Revive the beauty of your tiles with Honor Carpet Cleaning's professional Grout Cleaning services in Jacksonville, Florida.
Contact us today at 904-484-6394 to schedule an appointment or request a free quote.
Experience the difference between spotless grout lines and rejuvenated tiles with Honor Carpet Cleaning!