Welcome to Honor Carpet Cleaning, where we offer top-quality Janitorial Cleaning services in Jacksonville, Florida. Our janitorial cleaning solutions are tailored to meet the unique cleaning needs of commercial properties, offices, schools, and other business establishments.
Our professional janitorial team ensures a clean, hygienic, and welcoming environment for your employees, clients, and visitors.
We Are Ready To Clean Your Residential and Commercial Premises
Our Janitorial Cleaning Process:
Welcome to Honor Carpet Cleaning, where we offer top-notch janitorial services for residential and commercial properties.
Our meticulous approach to cleaning ensures that your space is not just tidy but also a healthy environment for everyone. Learn about our comprehensive janitorial service process below:
Consultation and Assessment: Our process begins with a thorough consultation to understand your cleaning needs. Whether it's a corporate office, medical facility, school, or residential property, our team assesses the space, identifies specific requirements, and develops a customized cleaning plan tailored to your needs.
Customized Cleaning Plan: No two spaces are the same, and neither are their cleaning needs. We create a detailed cleaning plan that outlines the scope of work, frequency of visits, and specific areas to focus on. This plan is a roadmap to ensure consistent and effective cleaning every time.
Professional Team: Our highly trained and experienced cleaning professionals are the backbone of our janitorial services. Equipped with the latest tools, eco-friendly cleaning products, and a commitment to excellence, they are dedicated to transforming your space into a spotless and hygienic environment.
Comprehensive Cleaning: Our janitorial services cover a wide range of cleaning tasks, including:
Dusting and Wiping: We dust and wipe surfaces to remove dirt, allergens, and germs, ensuring a clean and fresh atmosphere.
Vacuuming and Sweeping: Our team thoroughly vacuums carpets, rugs, and upholstered furniture and sweeps hard floors to eliminate debris and dust.
Mopping: We use appropriate cleaning solutions and techniques to mop different types of flooring, leaving them clean and shining.
Restroom Sanitization: We pay special attention to restrooms, disinfecting surfaces, replenishing supplies, and ensuring a hygienic environment.
Trash Removal: Waste bins are emptied and liners replaced to maintain cleanliness and prevent odors.
Window Cleaning: We clean windows and glass surfaces to provide a clear and bright view.
Specialized Cleaning: If needed, we offer specialized services such as carpet cleaning, upholstery cleaning, and tile/grout cleaning to address specific cleaning challenges.
Quality Inspection: Before leaving your premises, our team conducts a thorough quality inspection to ensure that every cleaning plan has been executed perfectly. This step guarantees that you receive consistent and high-quality cleaning results every time.
Client Feedback: We value your feedback and continuously strive to enhance our services. After each cleaning session, we encourage you to provide feedback on the quality of our work. Your input helps us improve and maintain our service standards.
Ongoing Partnership: We believe in building long-term relationships with our clients at Honor Carpet Cleaning. We offer flexible scheduling options to accommodate your needs and provide ongoing support to keep your space in impeccable condition.
Experience the difference professional janitorial services can make in maintaining a clean, healthy, and inviting environment.
Contact us today to schedule a consultation, and let us transform your space into a pristine haven.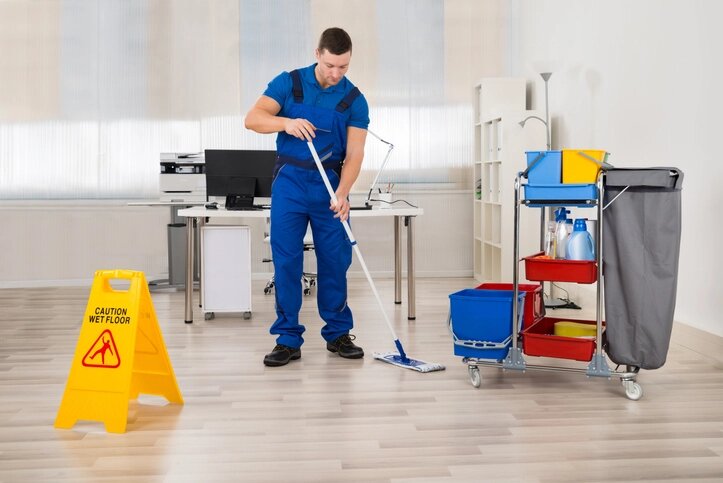 For Our Best Quality You Have Chosen Us
Janitorial work is not menial, but meaningful. Unfortunately, during a busy work week, not everyone can spare time to do some deeper cleanup work. There is only so much time in a standard forty-hour workweek. However, cleaning services can be a huge boon to your business.
Our Tile Cleaning Expertes
Our Janitorial Cleaning Services Include:
Office Cleaning: We understand the importance of a clean and organized workspace. Our office cleaning services cover dusting, vacuuming, trash removal, and other essential tasks to keep your office immaculate.

Commercial Property Cleaning: From retail stores to warehouses, our janitorial team is equipped to handle the cleaning requirements of various commercial properties, ensuring a clean and safe environment.

School and Educational Facility Cleaning: We prioritize cleanliness and safety in educational settings. Our janitorial services for schools include thorough cleaning of classrooms, cafeterias, restrooms, and common areas.

Medical Facility Cleaning: Healthcare environments demand meticulous cleaning and sanitization. Our janitorial team follows strict protocols to maintain a clean and hygienic medical facility.

Common Area Cleaning: We offer standard area cleaning services for residential complexes and apartment buildings to ensure residents have a pleasant and well-maintained living environment.

Restroom Sanitization: We pay special attention to restroom cleaning and sanitization, using effective cleaning agents to ensure the highest level of hygiene.
Why Choose Honor Carpet Cleaning for Janitorial Cleaning?
Experienced Janitorial Team: Our janitorial team is trained, experienced, and equipped to handle various commercial cleaning challenges.
Customized Cleaning Solutions: We understand that different establishments have unique cleaning needs. We tailor our services to meet your specific requirements.
Reliable and Consistent Service: We take pride in providing reliable and consistent janitorial cleaning services, ensuring your space is clean and presentable.
Eco-Friendly Cleaning: We use environmentally friendly cleaning products and practices, promoting a healthier and greener workspace.
Quality Assurance: Our commitment to quality assurance means we conduct regular inspections to maintain high cleaning standards.
Contact Us or Book an Appointment at 904-484-6394
Maintain a clean and professional environment with Honor Carpet.
Cleaning's expert Janitorial Cleaning Services in Jacksonville, Florida.
Contact us today at 904-484-6394 to schedule a consultation or request a free quote.
Experience the difference between a well-maintained and hygienic workspace with Honor Carpet Cleaning!